I've been looking into more storage options for my growing DF collection (esp with these yearly kickstarters now!), and after reading through a lot of the options people use, as well as buying more containers, here are my reviews of them.
My main goal is storage with ease of access, but secondarily, the ability to use them to transport to off-site games.
The best for storage with ease of access so far is the flat-file drawers – those are fantastic, and I make good use of the ones I have. No more detail on that. Link here.
I also like these Sterilite 7-drawer storage cart – they are a good size, and have individual hinged snap-lids for each drawer. Plus, they were only like $35 for the entire unit; unfortunately, I haven't found any more to buy since about 2010. (Link to a previous post with more pictures of them.)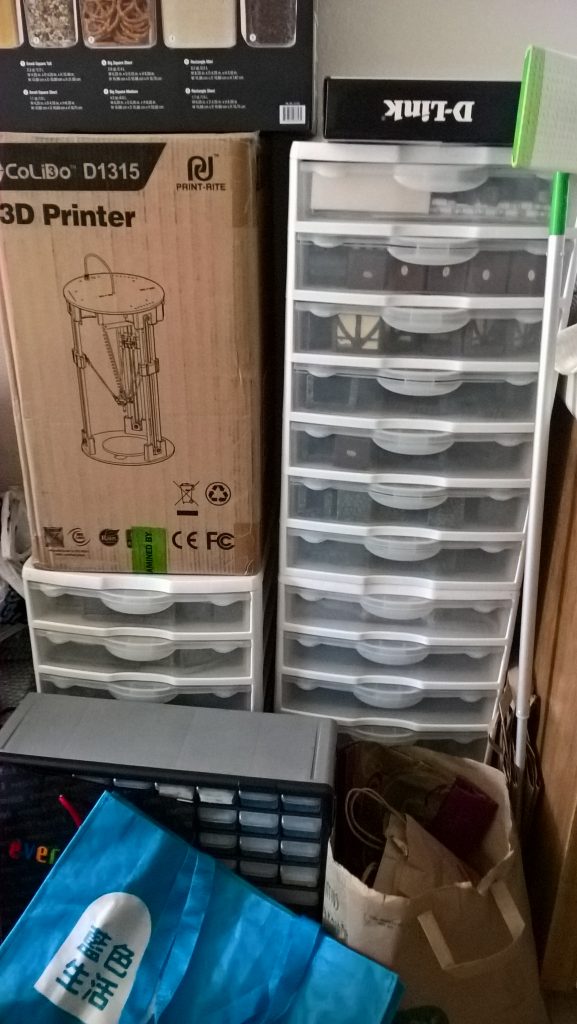 So the ideal criteria I was looking for when looking to dive into these containers are:
Sized 12″ x 12″ x 2″ on the

INTERIOR

(this comes into play with one of these)

Easily, and securely stackable

Durable
Here are pictures of 6 other models of various containers I have gotten to test in the past few weeks. I will be going through these from the top left and going clockwise in the following posts.
Here's a quick setup I did as well to test #6. It is mostly the lastest Dungeon of Doom (Kickstarter #5), with a few other elements (will point those out).
The rounded corner piece here is from the original Dwarven Forge Kickstarter #1 – the paint job matches very well with the newest KS.
Overhead shot