[Originally posted on the Dwarven Forge forums 2010 Jan 27. Game dates 2009 Dec 01 and Dec 29]]
In a Forgotten Realms game my friend has been running between my regular games (utilizing a completely home-brewed rules system he created), our characters were hired out to escort a group of cargo-bearing lizardmen north along the Sword Coast to Luskan. Turns out, we were part of the "delivery" to the slavers. After putting up a good fight – unexpectedly on the part of our GM, who thought we would just lay down arms, we were subdued and forced to fight in the arena.
I remembered having just seen an incredible arena on the forums, so I tried channeling dudebird as I hastily created one from the 2 cavern sets I have.
We were split into two "teams", and were given descriptions of the other gladiators on the opposing team. We had to pair up and choose a duo on the opposing team to fight.
This was the slaver's complex, with the natural cavern serving as the arena; one side held the "box-seats" for the boss, and a pair of elevated platforms on each side had archers ready to shoot anyone who didn't participate or tried to flee. We actually ended the game getting put into the arena that day, so the pictures below was us recreating just the arena portion from memory.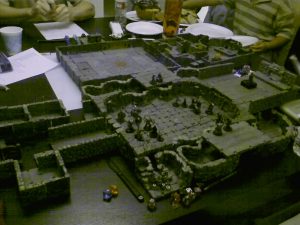 The arena layout, and the teams facing off. The last is a picture of my minotaur weaponmaster laying the smackdown on two of the lizardscum who sold us off into slavery and had volunteered to join in the arena for fun; they didn't expect us to rain on their parade. 😎
Enjoy!